Quiet Nights
An evening of acoustic music and spoken word performance
What
When
Jun, 06 2010


from

12:15 am

to

12:15 am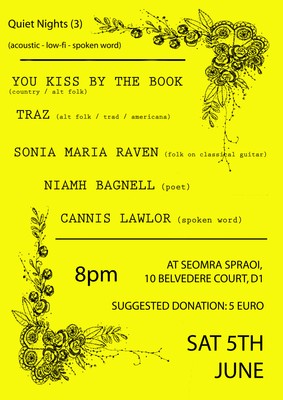 Quiet Nights number 3: Sat 5th of June in Seomra Spraoi.
Doors 8pm. Suggested Donation €5.
Quiet Nights is a monthly acoustic, low-fi, spoken word night in Dublin.
This month:
YOU KISS BY THE BOOK
http://www.myspace.com/youkissbythebook
"a lovely laid back sombre collection of rustic country tinged folk sounds reminscent of the likes of smog or bonnie prince billy at times… a lovely blend of traditional classic country folk and more modern indie folk sounds, complete with some classic slide guitar action." Road Records: http://www.roadrecs.com/
TRAZZ
http://www.youtube.com/TrazMusic
"One of those excitingly wide-eyed, wide-eared, discovery moments of loveliness, totally restored my faith in the music coming down the line, not that it was all that lacking to be honest: there are plenty of talented kids about, but to see a group so young and so evolved is heartening. Traz are a group of transition year students from Dublin… heavily alt folk inspired… add some stunning choir style voices, a dollop of low sax and a love of the fiddle and you get a very irish take on americana alt folk." Stranded: http://stranded.ie/2009/10/19/transfixed-by-traz/
SONIA MARIA RAVEN (SWI)
http://www.myspace.com/soniamariaraven
A very talented Dublin-based songwriter from Switzerland, sadly still floating below the radar outside of the open-mic scene. A captivating voice over classical guitar, generating a sound that moves between haunting and melancholic.
NIAMH BAGNELL
http://variouscushions.blogspot.com
http://sundayscrapbook.blogspot.com
A well known troubadour of Dublin poetry, celebrated for her witty written and spoken word. She's performed at Electric Picnic and Castlepalooza. Niamh writes a great blog by the title of Various Cushions and produces a weekly radio show on Liffey Sounds.
CANNIS LAWLOR
The talented poet performing a piece titled "Music's in your soul", exploring music's ability to break down social barriers.
<!-- /* Style Definitions */ p.MsoNormal, li.MsoNormal, div.MsoNormal {mso-style-parent:""; margin:0cm; margin-bottom:.0001pt; mso-pagination:widow-orphan; font-size:12.0pt; font-family:"Times New Roman"; mso-fareast-font-family:"Times New Roman";} a:link, span.MsoHyperlink {color:blue; text-decoration:underline; text-underline:single;} a:visited, span.MsoHyperlinkFollowed {color:purple; text-decoration:underline; text-underline:single;} @page Section1 {size:612.0pt 792.0pt; margin:72.0pt 90.0pt 72.0pt 90.0pt; mso-header-margin:36.0pt; mso-footer-margin:36.0pt; mso-paper-source:0;} div.Section1 {page:Section1;} -->